Gaming the System
International festival, Helsinki, Finland.
2015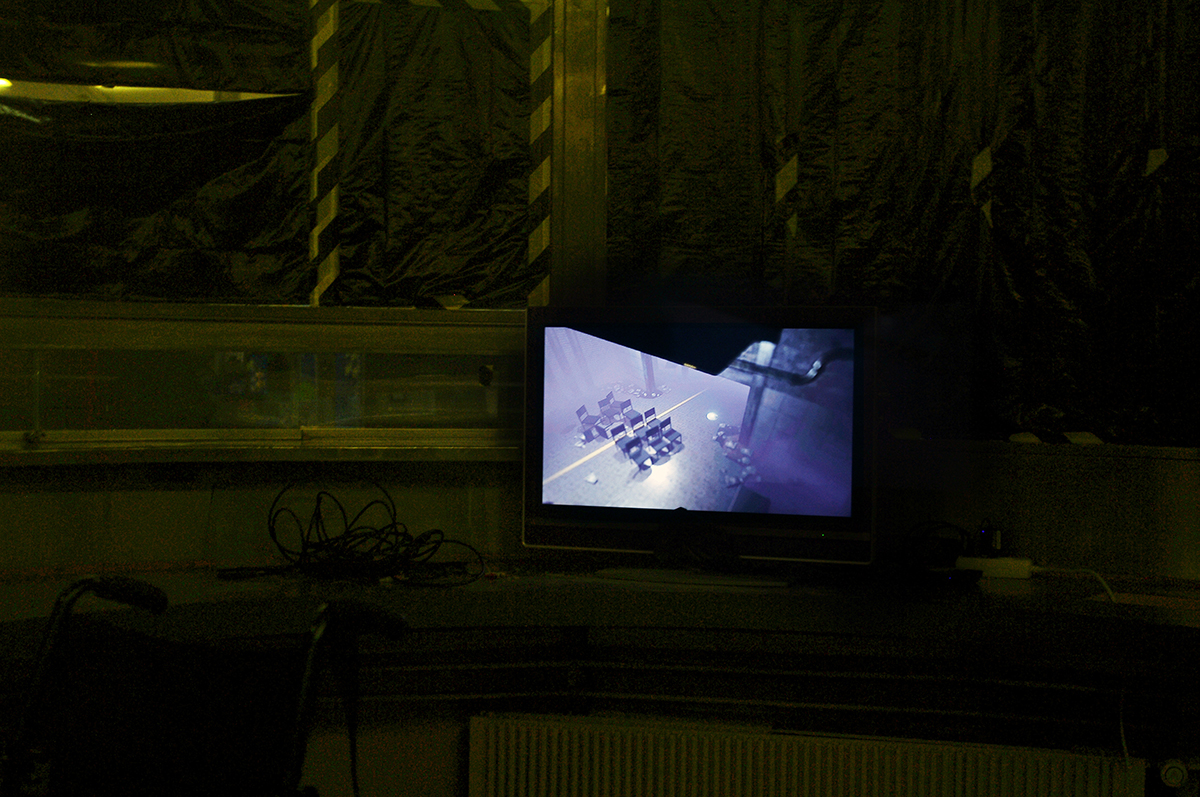 Last Worker Standing Machinima, Timo Bredenberg,
Video installation in the forem ticket sales booth in Hakaniemi metro station

Gaming the System examines an understanding of what might be axiomatic to games and art. Games are understood as structured play with formalist and systematic rules governing players. Play not as a definition of this axiom but understood as what is embodied through the identification of play may give us a way to game the system.

In cultural terms play is understood to pre-date culture itself, as "animals have not waited for humans to teach them their playing", which has been stated by cultural theorist John Huizinga. With this in mind play is not exclusively human, but gaming and game design are both human activities. You need to play with ideas to reach something new since play pre-dates any new culture. Play is innate to many species, species whose ancestors existed before humanity ever systematized play as games.

We know play as we know ourselves. This understanding of play mirrors the way we recognize ourselves within larger systems. This self-recognition is an embodied way of pervading the systems and structures, which are seen through our behaviour and social norms. This is to say that inherent in the recognition of play is a gaming of the system, which functions as a reflexivity of complex systems.



An excerpt from the programme of events

Understanding the art works in Gaming the System as reflexivity, with regard to our lived environments and play is a cue to explore art as a gaming of the system. Through this project These Animals have invited artists who use the materials and contexts of daily life to perpetuate art works. Art that games the system might make us know ourselves anew in the culture we live beyond our current recognition.

These Animals is an artist group comprised of Pii Anttila, Anastasia Artemeva, Alan Bulfin, and Steve Maher, brought together through shared interest in creating an art happening in an urban place. The artist collective invited practitioners from Finland and abroad for the debut event in September 2015.

Our collaborators included taidelinja Aalto University School of Arts Design and Architecture
forumvirium and Pixelache festival.

https://theseanimals.wordpress.com/



TomCat Festival
Limerick, Ireland
2013

A multidisciplinary street festival facilitated collaboration of business owners, publicans and local artists of Catherine and Thomas streets, the centre of Limerick city in Ireland. A continuation from a very successful project by Spirit Store, a collective managed by Paul Tarpey and Marilyn Lennon, the format of the festival varies from year to year, always focusing on contributions from local trades, especially family-run business like pubs, butchers', piano shop and a cobblers', to name a few.
Co-curated with Steve Maher and Gimena Blanco.

Please read more about TomCat here





Breda Lynch, Soul Survivor, digital print, Mulhany's Newsagent